Patient Implant Card
Everything you need to know.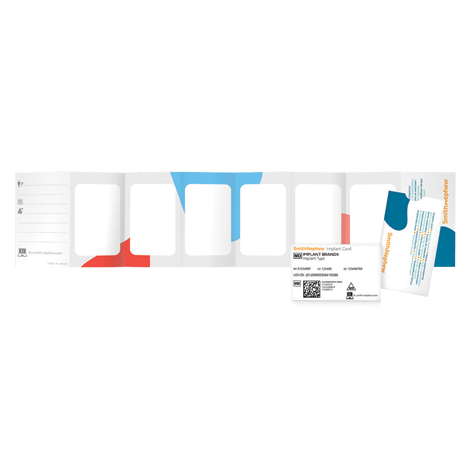 Patient information material for implantable medical devices
Due to amendments to the Therapeutic Goods (Medical Devices) Regulations 2002, from 1 December 2021 suppliers of specified implantable medical devices have been mandated to include specified patient information materials with the supply of their devices. These materials are in the form of a Patient Implant Card (PIC) and a Patient Information Leaflet (PIL). The objective of these materials is to provide patients with important information about the specific implantable medical devices.
Details of the information in the patient information materials is available on the Therapeutic Goods Australia (TGA) website: https://www.tga.gov.au/resource/medical-device-patient-information-leaflets-and-implant-cards.
The TGA has also published advice for health care providers regarding the requirements for the patient information materials, and advise that the TGA will consider interim arrangements for suppliers to provide this information material (see https://www.tga.gov.au/products/medical-devices/find-information-about-medical-device/patient-information-material-implantable-medical-devices).
How will Smith+Nephew provide patient information material for its relevant implantable medical devices?
Patient Implant Card
Smith+Nephew are proposing to provide 'Accordion' style Folders and Sleeves to be used with its implantable medical devices that are currently held within your facilities. This Accordion Folder and Sleeve have been designed to accommodate the PIC. As an interim measure, if the PIC is not available for a particular Smith+Nephew device on 1 December 2021, the Chart Sticker for that device may be adhered to the Accordion Folder.
Moving forward, the Accordion Folder and Sleeve will be supplied with consignments of our devices, device direct sales, and loan kits. The Accordion Folder can hold up to 7 Implant Cards and the Sleeve is the protective pouch for the Accordion Folder.
The PIC is required to be supplied with implantable medical devices. After surgery, the Accordion Folder and Sleeve should be provided to the patient.


Figure 1 - Patient Implant Card Accordion Folder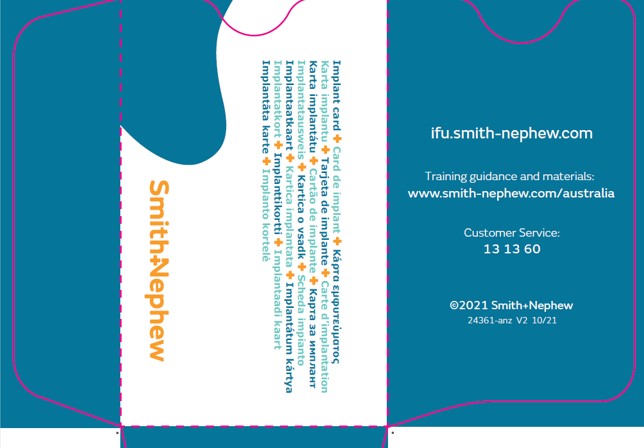 Figure 2 - Patient Implant Card Sleeve
Patient Information Leaflets
Smith+Nephew has made available electronic Instructions for Use (eIFU) and PIL for implantable medical devices on our electronic instructions for use website https://ifu.smith-nephew.com/. The eIFU website is also provided on the Patient Implant Card Accordion Folder and Sleeve for your, and the patient's, reference.
Health care providers and patients can access Smith+Nephew's eIFU website and download the information leaflets for the relevant implanted medical device. Paper copies of the eIFU and PIL can also be requested from Smith+Nephew and will be sent (at no additional cost) to the requested address with 7 calendar days.
Training guidance and materials
Smith+Nephew has made available training resources to provide guidance to health care providers and patients on how to access the eIFU website and obtain the device specific PIL. The training guidance and materials are accessible on this website.
Should you require any further information, please feel free to contact our Customer Service team on 13 13 60 or any of your Smith+Nephew contacts.
Healthcare Professional
The following training materials are available for healthcare professionals:
Patient
The following training materials are available for patients: