14 September 2023
Appointment of Non-Executive Directors and Confirmation of Chair
Smith+Nephew (LSE: SN, NYSE: SNN), the global medical technology company, announces the following Board appointments.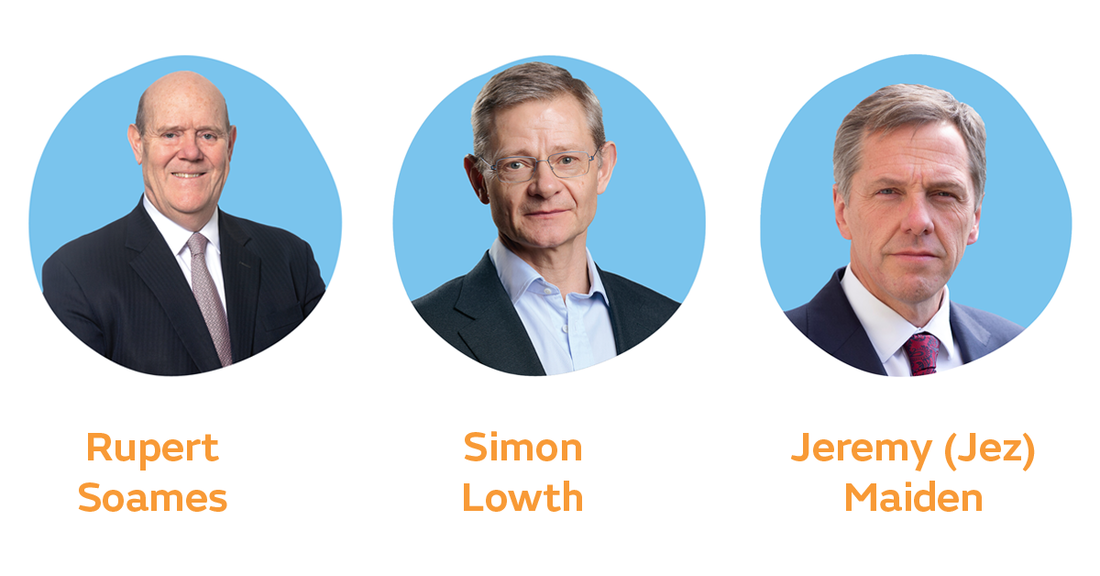 The Company is pleased to announce that Jeremy (Jez) Maiden and Simon Lowth will be joining the Board as independent Non-Executive Directors. Jez joins today and will serve as a member of the Audit Committee and Remuneration Committee. Simon will join on 1 January 2024 and will serve as a member of the Audit Committee and Nomination & Governance Committee.
Additionally, Rupert Soames will, as planned, assume the role as Chair of the Board on 15 September, in succession to Roberto Quarta. Rupert has also been appointed as Chair of the Nomination & Governance Committee and will continue to serve on the Remuneration Committee.
Jez Maiden has extensive global financial experience across a diverse range of industries and sectors. He retired earlier this year as Group Finance Director at Croda International, the FTSE-100 global speciality chemicals company, and before that held similar roles at National Express Group and Northern Foods. He is currently Senior Independent Director at Travis Perkins plc and a Non-Executive Director and member of the Audit Committee at Intertek Group plc. Previously, he served as the Senior Independent Director at Synthomer and at both PZ Cussons and Synthomer he chaired the Audit Committee and served on the Remuneration Committee. He is a fellow of the Chartered Institute of Management Accountants.
Simon Lowth has deep experience in finance, accounting, risk, corporate strategy as well as mergers and acquisitions. He currently serves as Group Chief Financial officer of BT Group, a role he has held since 2016 and previously performed the same role at BG Group, AstraZeneca and Scottish Power. Before joining Scottish Power, he led the Industrial Practice of McKinsey in the UK and has a background in engineering. He previously served as a Non-Executive Director on the Board of Standard Chartered. He currently holds no additional external appointments.
Rupert Soames commented:
"We are delighted to be able to announce two such strong appointments to our Board. Simon and Jez bring deep executive and non-executive experience of serving on boards of companies which have had to address strategic and operational challenges across a number of different industries, including life-sciences and healthcare. They both have experience of supervising large operations in the US, Europe and Asia and of working in highly-regulated industries.
"Simon brings a wealth of expertise across a wide range of sectors, including within regulated industries. Having served as the CFO in four FTSE-100 companies, including AstraZeneca and, currently, BT, he has deep experience of capital markets, implementing strategic change, cost transformation and performance improvement programmes as well as understanding how technology can be used to transform a business, all of which will be very helpful to the Board.
"Jez brings more than 15 years of experience both as a FTSE Chief Financial Officer and as a Non-Executive Director in businesses involved in manufacturing, science and technology and will be a valuable addition to the Board and its Committees.
"Finally, I want to pay tribute to my predecessor Roberto Quarta who has delivered great service to the Company since taking over as Chair of Smith & Nephew in 2014. He has shown immense diligence and skill leading the Board and helping to navigate the company through challenging times; my colleagues on the Board and across the business are grateful for his leadership and commitment."
No disclosure obligations arise under paragraphs (1) to (6) of LR 9.6.13 R of the UK Listing Authority's Listing Rules in respect of the two new appointments. In line with current Non-Executive Directors, Jez Maiden and Simon Lowth will each be paid annual fees of £69,500, of which £6,500 will be paid in Smith+Nephew shares.
Enquiries
Investors/ Analysts
Andrew Swift
Smith+Nephew
+44 (0)1923 477433
Media
Charles Reynolds
Smith+Nephew
+44 (0)1923 477314
Susan Gilchrist / Ayesha Bharmal
Brunswick
+44 (0)207 4045959
About Smith+Nephew
Smith+Nephew is a portfolio medical technology company that exists to restore people's bodies and their self-belief by using technology to take the limits off living. We call this purpose 'Life Unlimited'. Our 19,000 employees deliver this mission every day, making a difference to patients' lives through the excellence of our product portfolio, and the invention and application of new technologies across our three global franchises of Orthopaedics, Advanced Wound Management and Sports Medicine & ENT.
Founded in Hull, UK, in 1856, we now operate in more than 100 countries, and generated annual sales of $5.2 billion in 2022. Smith+Nephew is a constituent of the FTSE100 (LSE:SN, NYSE:SNN). The terms 'Group' and 'Smith+Nephew' are used to refer to Smith & Nephew plc and its consolidated subsidiaries, unless the context requires otherwise.
For more information about Smith+Nephew, please visit www.smith-nephew.com and follow us on X, LinkedIn, Instagram or Facebook.
Forward-looking Statements
This document may contain forward-looking statements that may or may not prove accurate. For example, statements regarding expected revenue growth and trading profit margins, market trends and our product pipeline are forward-looking statements. Phrases such as "aim", "plan", "intend", "anticipate", "well-placed", "believe", "estimate", "expect", "target", "consider" and similar expressions are generally intended to identify forward-looking statements. Forward-looking statements involve known and unknown risks, uncertainties and other important factors that could cause actual results to differ materially from what is expressed or implied by the statements. For Smith+Nephew, these factors include: risks related to the impact of Covid, such as the depth and longevity of its impact, government actions and other restrictive measures taken in response, material delays and cancellations of elective procedures, reduced procedure capacity at medical facilities, restricted access for sales representatives to medical facilities, or our ability to execute business continuity plans as a result of Covid; economic and financial conditions in the markets we serve, especially those affecting healthcare providers, payers and customers (including, without limitation, as a result of Covid); price levels for established and innovative medical devices; developments in medical technology; regulatory approvals, reimbursement decisions or other government actions; product defects or recalls or other problems with quality management systems or failure to comply with related regulations; litigation relating to patent or other claims; legal and financial compliance risks and related investigative, remedial or enforcement actions; disruption to our supply chain or operations or those of our suppliers (including, without limitation, as a result of Covid); competition for qualified personnel; strategic actions, including acquisitions and disposals, our success in performing due diligence, valuing and integrating acquired businesses; disruption that may result from transactions or other changes we make in our business plans or organisation to adapt to market developments; relationships with healthcare professionals; reliance on information technology and cybersecurity; disruptions due to natural disasters, weather and climate change related events; changes in customer and other stakeholder sustainability expectations; changes in taxation regulations; effects of foreign exchange volatility; and numerous other matters that affect us or our markets, including those of a political, economic, business, competitive or reputational nature. Please refer to the documents that Smith+Nephew has filed with the U.S. Securities and Exchange Commission under the U.S. Securities Exchange Act of 1934, as amended, including Smith+Nephew's most recent annual report on Form 20-F, which is available on the SEC's website at www. sec.gov, for a discussion of certain of these factors. Any forward-looking statement is based on information available to Smith+Nephew as of the date of the statement. All written or oral forward-looking statements attributable to Smith+Nephew are qualified by this caution. Smith+Nephew does not undertake any obligation to update or revise any forward-looking statement to reflect any change in circumstances or in Smith+Nephew's expectations.
◊ Trademark of Smith+Nephew. Certain marks registered in US Patent and Trademark Office.